Peri Peri Chicken
Combine the HOC peri peri sauce and the chicken. Marinate for half an hour
Once marinated, place the chicken pieces on a baking tray and cook for 15 minutes at 225 degrees. Turn over the pieces and cook again for 15 minutes at 125 degrees
Peri Peri Cheese Sauce
Mix the HOC peri peri sauce and the processed cheese. Cook them in a pan until the cheese melts completely and the sauce is of a thick and even consistency
Pizza Sauce
Heat the olive oil in a pan. Add the tomato puree, chopped tomatoes, chopped garlic, dry herbs, black pepper powder, and salt
Cover and let them cook until the tomatoes turn mushy
Once cool, blend it into a smooth paste
Pizza Dough
Mix 110gm (half quantity) of the all purpose flour, instant yeast, salt and sugar in a bowl. Add olive oil and water as required, to mix it all well
Add the remaining all purpose flour and knead into a dough with a little oil in your palms. Once you have the dough, coat it with oil and let it rest for 30 minutes
Baking
Take half of the pizza dough on a baking pan and using your fingers, form the dough – 8" in diameter and about ¼" in thickness
With your fingers, flip the dough around the edge of the circle. Once done, brush the entire dough with olive oil
Take half the quantity of the pizza sauce and spread it across the pizza dough. Add a layer of mozzarella on top using half of the quantity
Drizzle some HOC peri peri sauce on top of the mozzarella layer
Add the sliced onion, bell pepper, and the baked chicken pieces. Finish the topping off with more mozzarella, as per your taste
Bake in a preheated oven on the bottom rack, for 10-12 minutes, or until the crust is brown
Your Peri Peri Chicken Pizza is now ready!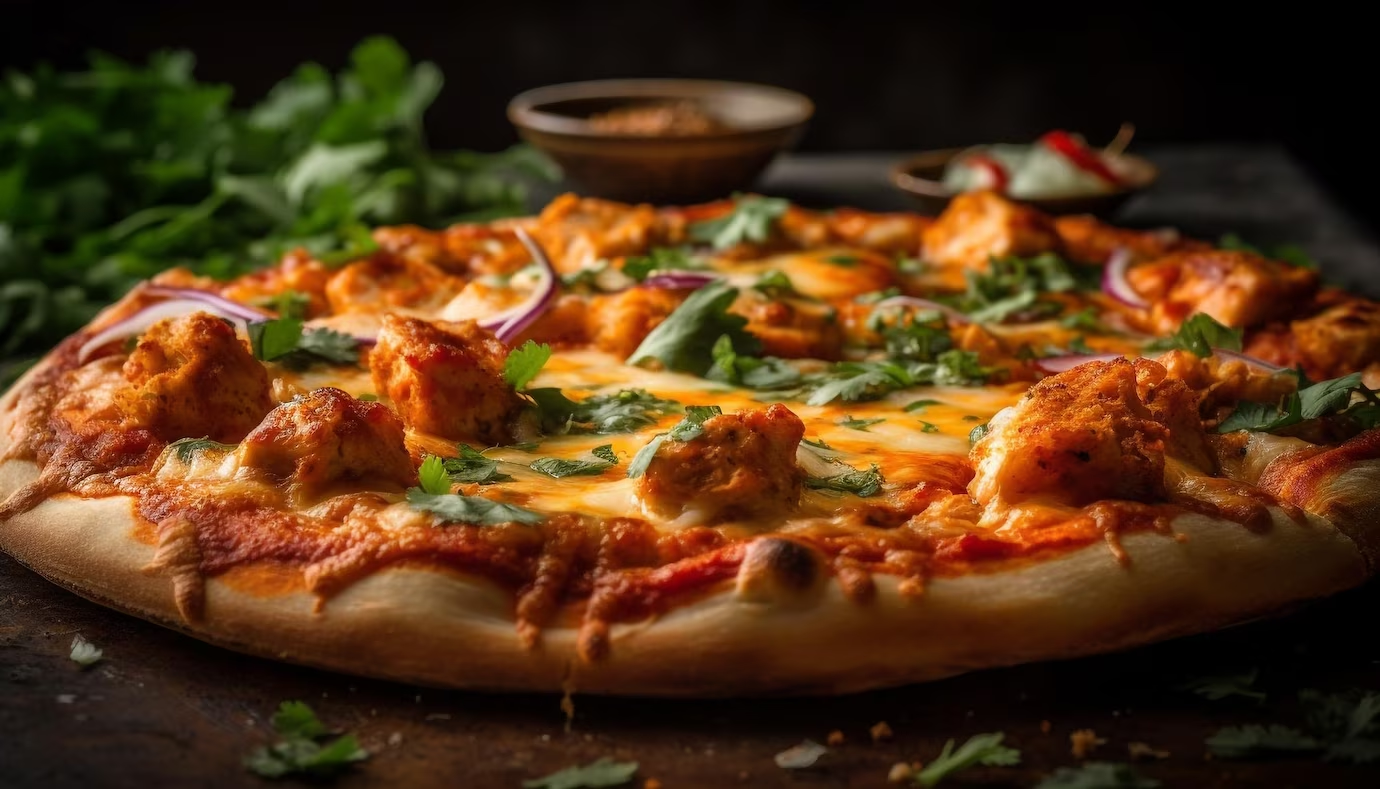 Frequently Asked Questions(FAQs)
Can I adjust the spiciness level of Peri Peri Chicken Pizza?
Yes, some restaurants may allow you to customize the spice level to suit your taste preferences.
What other toppings are typically added to Peri Peri Chicken Pizza?
Besides chicken, you can find toppings like bell peppers, red onions, cherry tomatoes, and cheese that complement the Peri Peri flavours.
Is Peri Peri Chicken Pizza suitable for vegetarians?
While the original version includes chicken, some places may offer vegetarian alternatives, replacing chicken with plant-based proteins.
Can I order Peri Peri Chicken Pizza with a different type of crust?
Depending on the restaurant, you may have options for thin crust, thick crust, or even gluten-free crust.
What beverages pair well with Peri Peri Chicken Pizza?
Cool down the heat with refreshing beverages like lemonade, iced tea, or even a cold beer.
Can I add extra toppings to Peri Peri Chicken Pizza?
Of course! Many eateries allow you to customize your pizza with additional toppings to suit your taste.